> Kitchen Tools / Stationery
Kitchen Tools / Stationery
Product Line-up
*For more detailed info, please visit the Kyocera Global site.
Ceramic Knives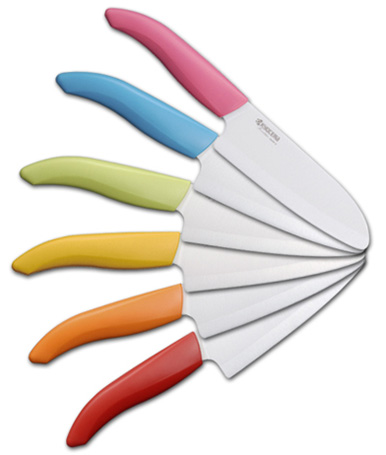 Experience by your own Kyocera ceramic knives' valuable features which are not available in traditional kitchen knives. For example, ceramic knives never rust nor will they transfer a metallic taste to foods, because ceramics are not made of metal. Moreover, their tremendous sharpness will last for a long time. In addition, you can safely disinfect them with bleach after use. There are various kinds of ceramic knives including slicing knives, fruit knives and santoku knives. Please find the most suitable model for you.

Ceramic Cutlery Lifestyle
Try Kyocera's Ceramic cutlery to "Feel, Taste, Enjoy" the lifestyle of the unique characteristics of ceramics. "Original Flavor stays natural after cutting with ceramic blades!" "Very light!" "Easy to clean!" These customer' emotional hint of our product quality. Our advanced kitchen goods are the result of our pursuit of excellence.